7 Best Vitamin C Serums of 2020
Has your skin been looking dull and tired? There's an ingredient to remedy that: vitamin C. The powerhouse ingredient is a potent antioxidant that helps reduce inflammation, pigmentation, and reduces fine lines by stimulating collagen.
When picking out your vitamin C product, here are a few things to keep in mind: skip moisturizers spiked with vitamin C and instead choose a serum, which is more effective at penetrating the skin barrier. Also, it's best to pick a formula that comes in an airtight pump or opaque bottle and keep it away from direct sunlight. Vitamin C is notoriously unstable—especially when it's exposed to air and light.
Read on for our vitamin C serum picks—suitable for a wide range of skin types and for various purposes, including hyperpigmentation and anti-ageing.
Tatcha Violet-C Brightening Serum
The brand's beloved Violet-C Radiance mask, but in serum form. This brightening serum has 20% vitamin C and 10% alpha hydroxy acids (AHAs), making it a formidable force against dark spots and dullness.
SkinCeuticals C E Ferulic
Editors and dermatologists alike love this serum for its anti-ageing powers, along with its ability to dramatically lighten dark spots. It's a little on the expensive side, but you only need a couple of drops for your entire face, so it should last a decent amount of time. Plus, when you start waking up to glowing skin every day, you'll realize it's well worth the price.
Sunday Riley C.E.O. 15% Vitamin C Brightening Serum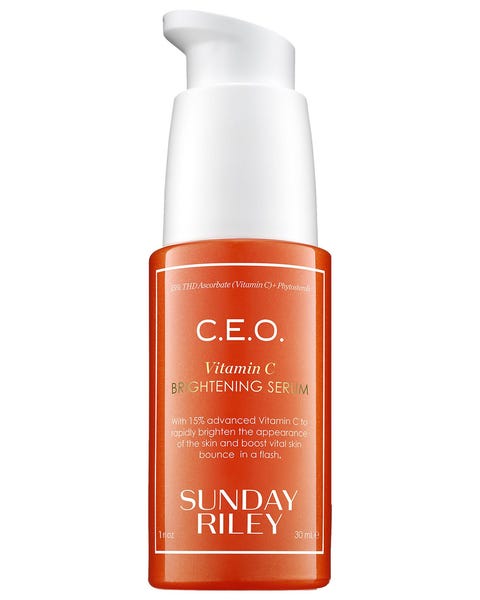 This Sunday Riley serum is formulated with THD ascorbate—a highly stable and oil-soluble formula of vitamin C that quickly penetrates the skin, leaving it visibly smoother and brighter. It also contains saccharide isomerate extract, which helps reduce the appearance of pores.
Use this once a day for a week and tell us your skin doesn't look bright and plump like you just got a facial.
Drunk Elephant C-Firma Vitamin C Day Serum
It's easy to see why so many beauty lovers adore this serum from Drunk Elephant; it combines the skin brightening effects of L-ascorbic acid, pumpkin ferment extract, and pomegranate enzymes to help exfoliate the skin and rid the surface of dead skin cells. And we're huge fans of the air-tight packaging and natural formula and the fact that it lightened our pesky sun spots in just a few weeks.
Glow Recipe Pineapple-C Brightening Serum
This one from K-beauty brand Glow Recipe has the best possible blend of ingredients for your skin; pure pineapple juice— a natural source of vitamin C—is combined with AHAs and bromelain enzymes to retexturize dull and spotty skin. It's also non-irritating, thanks to chamomile and hyaluronic acid.
Paula's Choice C15 Super Booster
Made with a whopping 15% of pure vitamin C, just a drop or two of Paula's Choice C15 Super Booster (SGD71) will brighten your skin. This solution is blended with a powerful stabilized concentration of vitamin C, alongside ferulic acid and peptides to diminish pigmentation and make way for brighter skin.
Dr.TWL Dermaceuticals Vità C Gold Serum
This dermatologist-formulated serum from local brand Dr.TWL Dermaceuticals is intensely concentrated to produce optimal anti-ageing results. The star ingredient, stabilised Vitamin C, acts as an antioxidant to fight free radical damage and helps to further enhance its anti-ageing properties.