7 Lightweight Serums to Balance Your Oily Complexion
You might be looking a little slick by midday, but that doesn't mean you can skip hydration. In fact, you should be amping up hydration — minus thick, heavy formulas that do nothing for your skin type, of course. Whipped, creamy moisturisers are a no-no since many of these contain rich ingredients like oils that sit on the skin, leave you feeling greasy and lead to clogged pores. Instead, opt for lightweight serums that pack a punch. Believe it or not, serums aren't just for supercharging your skincare regimen. With the right ingredients and texture, this beauty product can do wonders in helping to rebalance oily and acne-prone skin.
Here are some key ingredients to look out for in your serums:
1. Vitamin C: An antioxidant that helps protect your skin from free radicals and promotes collagen production. It can also help treat underlying probs that lead to oiliness and acne.
2. Hyaluronic acid: A well-loved ingredient that offers intense, ultra-lightweight hydration that can restore your skin's balance without any greasiness.
3. Salicylic acid: Naturally sourced from willow tree bark, this fat-soluble BHA penetrates follicles to break down sebum build-up, reducing and preventing clogged pores.
4. Glycerin: A gentle plant-based ingredient that can improve skin elasticity and smoothness, while hydrating the skin.
5. Niacinamide: A superstar ingredient, niacinamide does it all — control excess sebum, help minimise enlarged pores, improve uneven skin tone, soften fine lines and wrinkles, brighten skin, and strengthen the skin barrier surface.
6. Lactic acid: An AHA that works to treat hyperpigmentation and age spots and shrinks pores.
Ahead, find 7 of our favourite serums that have been created with oily complexions in mind, which works amazingly at refining your skin and leaving it healthy and glowing.
The Ordinary Niacinamide 10% + Zinc 1%
The Ordinary's Niacinamide 10% + Zinc 1% is no ordinary serum. Its niacinamide and zinc formulation offers a ton of benefits for oily skin; fans of the cult favourite say it clears up acne, reduces oil, and makes pores look smaller-than-life.
The Ordinary Niacinamide 10% + Zinc 1%, SGD8.50
First Aid Beauty Skin Lab Retinol Serum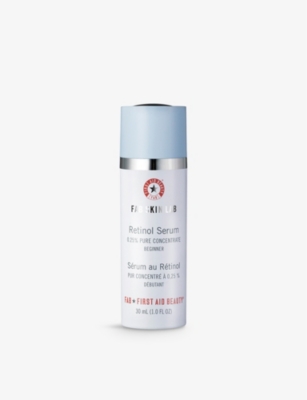 Retinol formulas are great for oily skin. And if you're a beginner to this ingredient, you can start with First Aid Beauty's retinol serum. It combines retinol and advanced peptides — two gold-standard ingredients — to help soften the look of fine lines and wrinkles. A combination of hyaluronic acid, vitamins C + E, aloe, colloidal oatmeal, allantoin and ceramides work together to leave the complexion feeling soothed and rejuvenated.
First Aid Beauty Skin Lab Retinol Serum 0.25% Pure Concentrate, SGD83
Grown Alchemist Detox Serum Antioxidant+ 3 Complex
This lightweight serum from Grown Alchemist is oil-free, detoxifies the skin, improves radiance and enhances skin texture. It's also powered by a potent Antioxidant +3 complex, which neutralises free radicals, while Tri-Peptides repairs DNA and aloe vera heals the skin.
Grown Alchemist Detox Serum Antioxidant+ 3 Complex, SGD76
Aesop Parsley Seed Anti-Oxidant Intense Serum
Aesop's Parsley Seed Anti-Oxidant Intense Serum is a fortifying serum suited to most skin types and great for urban dwellers. With superstar ingredients like niacinamide and glycerin, it forms a breathable antioxidant film on the skin — providing an effective environmental barrier.
Parsley Seed Anti-Oxidant Intense Serum, SGD110
OSEA Hyaluronic Sea Serum
If your skin is in need of a boost of hydration, reach for OSEA's Hyaluronic Sea Serum — a thirst-quenching serum that packs a punch. It smooths the appearance of fine lines while drawing water-based moisture to the skin like a magnet. A synergy of three molecular weights of hyaluronic acid and nutrient-rich seaweeds restores and maintains moisture levels, keeping your skin hydrated all day long. 
OSEA Hyaluronic Sea Serum, SGD141
Sunday Riley Good Genes All-in-One Lactic Acid Treatment
Another cult favourite on the list and for good reason. Sunday Riley's lactic acid serum is well-loved because it's great at helping regulate sebum production. It also helps improve the skin tone and correct pH imbalances.
Sunday Riley Good Genes All-in-One Lactic Acid Treatment, SGD164
Dr. Barbara Sturm Clarifying Serum
This serum from Dr. Barbara Sturm is a potent cocktail of soothing and antioxidative ingredients to nourish and protect your skin. Formulated with purslane (it's first on the ingredient list!), the Clarifying Serum calms the skin and reduces signs of irritation, all while keeping the skin hydrated.